MP3 Joiner – Combine, Merge, Join MP3 Files
Want to join audio mp3 into one? MP3 Joiner merges audio to a non-stop audio file! Look no further – our MP3 Joiner is just the piece of software you have been looking for! No confusing menus, no tricky timelines, no fancy technical terms – just drag'n'drop your favourite compositions from Windows Explorer into the program window or add them through the program dialog, arrange them in the desired order and press the "Join!" button.
Step by step guide on how to join mp3 audio files:
Free download online and install MP3 Joiner on your Windows, and then follow the step by step guide to combine audio files within minutes.
Step 1: Add MP3 files you want to join to this MP3 Joiner – simply drag and drop your mp3 files to the main interface of the program.
Tips: Drag and drop the folder where the mp3 files are to the software main window, if you don't want to add files one by one. Note that these files are arranged according to the play order. So if you need to exchange the location of few files, just free drag them to your wanted position.
Step 2: Set the output format. If you don't want to re-encoding, just select ".mp3 (MPEG-1 Audio Layer 3)" and "Lossless" as output format. Choose another audio format as output format if you'd like to change the target format.
Step 3: Customize audio parameters: click Setting button to set audio parameters (sample rate, channels, bitrate) for the output format as you want.
Step 4: Join MP3 files Simply click big "Join!" button on the lower right corner of the program to join mp3 files into one in a flash.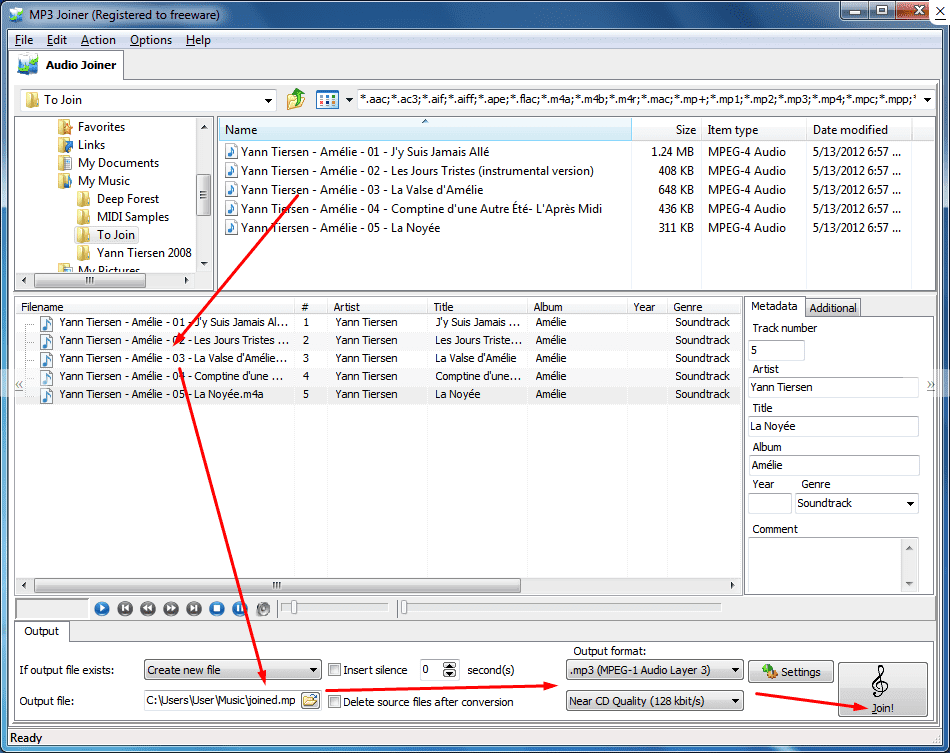 Main Benefits:
Support wide range of Audio Formats
You can easily join audio files together even if they are saved in different formats. Audio Merger can take any number of AAC, APE, FLAC, M4A, M4B, MP2, MP4, OGG, WAV, and WMA tracks (see the complete list of supported formats below), and produce a single mp3 file in any supported format. Your source and destination formats do not necessarily need to match – as long as a particular format is supported, you can use any variety and any assortment of audio formats as input and output.
Merge Lossy and Lossless Formats
You can seamlessly join lossy and lossless formats no matter what bitrate and codec they are using. For example, you can take a mix of MP3′s, FLAC and OGG files and join them into a single AAC file.
Automatic Re-sampling and Format Conversion
While merging audio files in different formats, Joiner performs automatic format conversion, decoding, re-sampling and re-encoding files if required. Even if your source files have a different format, recorded with different sample rate, and encoded with different bitrates and different codecs, Merger will handle the conversion completely automatically and with no hesitation. Just specify which format, bitrate and sample rate you want your output file, and Combiner will do the rest! As an added bonus, you can use Stitcher to simply convert file formats.
Gapless Playback or Customizable Pauses
Whether you prefer truly gapless playback or want a certain period of silence between the tracks, MP3Joiner is the tool for you. You can specify exactly how long a pause should be there between the tracks. Choose zero, and MP3Joiner will merge audio files into a non-stop medley!
Join Songs, Lectures and Presentations
Why would anyone want to merge mp3 audio files together? In many situations, having a single audio file is simply more convenient than struggling with multiple fragments. For example, you may want to stick pieces of recorded conversations together to have a single presentation. Or you may want to merge fragments comprising a recording of a class, lecture or presentation. Finally, you may just want to get rid of the clutter, merging a zoo of different formats into thematic mixes.

Batch Audio Joining
You can manually select individual files or batch join entire folders. Just drop any number of files into a folder, then specify that folder in the program to produce a single mp3 audio file.
The key features:
Very intuitive graphical interface with Drag&Drop support
Join any number of files – no limitations by size, length
Full support for ID3v1 and ID3v2 tags
Join audio files of same/different formats, join multiple mp3 files to make a one large mp3 file with ease
Direct joining without re-compression or quality loss
Configuration presets with frequently used parameter settings
High-speed batch conversion
Built-in audio player and tag editor
Gapless merging for continuous uninterrupted listening
Adds customizable periods of silence in between tracks
Supports freely playing the following audio formats like Vorbis, AAC, AC3, ALAC, OGG, MP2, WAV, FLAC, WMA, M4A, M4B, APE, AIFF, MPC, SPX, etc.
Works on Windows 10/8.1/8/ 7/Vista/XP and Windows 2000
Join mp3 and many other audio formats as well as keep the source audio formats or join MP3, WAV, etc as well as convert them to other audio formats
Proven safe and free programs without any malware
User interface in 12 languages
System Requirements:
Minimum System Requirements
Microsoft Windows XP (32-bit and 64-bit)
1.0 GHz or faster processor
512 MB RAM
10 MB free hard drive space
Recommended System Requirements
Microsoft Windows 7/Windows 8/Windows 8.1/Windows 10 (32-bit and 64-bit)
Pentium 4 or faster multi-core processor
1 GB RAM
10 MB free hard drive space